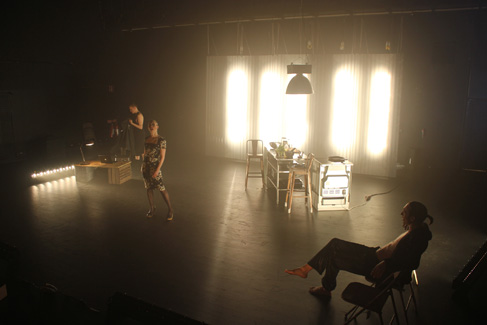 EUROPOL, EUROTRASH, EURODISNEY, EUROSPORT, EURODISCO
A dark saga i five acts about money, consumtion, desire and greed. We´ll follow three persons journey into the heart of the European darkness. From a dirty apartment in the outskirt town of Rotenburg an der Fulda, to penthouses in New York sex and the city style, to bank vaults in Duckville, France, to end up in Genoa, Athens, Gothenburg, Seattle, Barcelona, for a battle of classes. It´s time to disco
Text: Jörgen Dahlqvist. Director: Linda Ritzén. Actors: Pernilla Göst, Daniel Nyström, and Simon J Berger. Light design: Johan Bergman. Costume: Jenny Ljungberg. Set design: Jörgen Dahlqvist, Jenny Ljungberg and Linda Ritzén. Mask: Sandra Haraldsen.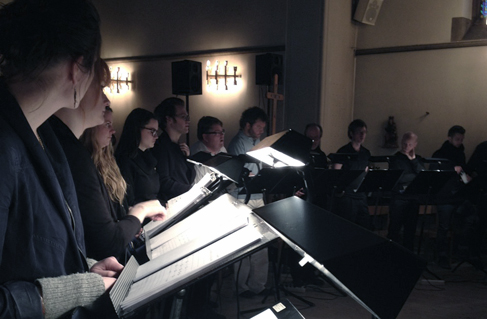 NOLI ME TANGERE
A piece for seven singers, seven actors and live-electronics. A choir piece written as a comment to Lagrimæ di Sanct Pietro by Orlando Di Lasso from 1594. The piece deals with prostitution and the guilt and denial when buying other people. Performed at the Gustav Adolf Church in Stockholm.
Music: Kent Olofsson. Text: Jörgen Dahlqvist. Conductor. Fredrik Malmberg. Singers: Vokalharmonin. Actors: Johanna Rane, Alexandra Drotz Ruhn, Emma Sildén, David Book, Mattias Åhlén, Erik Carlsson and Robert Olofsson.
HISTORIEN LYDER
(As The Story Goes)
A piece for three actors, three musicians and live-electronics
Music: Kim Hedås. Text: Christina Ouzounidis. Musicians: Stefan Östersjö, Jörgen Pettersson and Nina DeHeney. Actors: Petra Fransson, Pia Örjansdotter and Sandra Huldt. Light: Sutoda. Room and costume design: Jenny Ljungberg.
HAMLET II:EXIT GHOST

Hamlet II:exit ghost is a play that examines the text of Shakespeare in different ways. It´s a artistic approach that investigates thoughts, motifs and metaphores in the classic play, trying to deal with memory and doubt.

Text: Jörgen Dahlqvist. Director: Linda Ritzén
Participants: Daniel Nyström, Simon J Berger and Pernilla Göst
Room: Linda Ritzén, Jenny Ljungberg, and Jörgen Dahlqvist. Light: Johan Bergman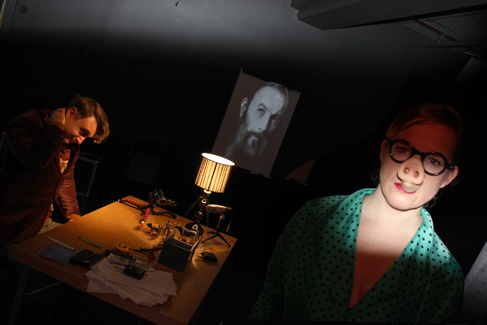 A LANGUAGE AT WAR

A Language at war has Wittgensteins philosophy as a starting point. It´s an investigation of what is left when language breaks down and stop communicating with words. The performance is a sonic art theatre for one actor, one singer, live-electronics and composed music.

Text + director: Jörgen Dahlqvist. Composer: Kent Olofsson.
Participants: Angela Wingerath, Linda Kulle and Rafael Pettersson
Costume: Sandra Haraldsen.






BERGMANVARIATIONER
(Bergman variations)

Bergmanvariationer is a performance that examins the world of the famous Swedish director Ingmar Bergman. The text is based freely after his films and examines guilt, sin, swedish summer, man´s struggle with existance and the absence of the voice of god. The play is performedf at Bergman´s favourite theatre stage; Intiman in Malmö.

Text: Jörgen Dahlqvist. Director: Linda Ritzén. Set design/light/Costume: Johan Bergman. Actors: Fredrik Gunnarson, Susanne Karlsson, Cecilia Lindqvist, Karin Lithman och Rasmus Luthander. Composer: Kent Olofsson
In cooperation with Malmö Stadsteater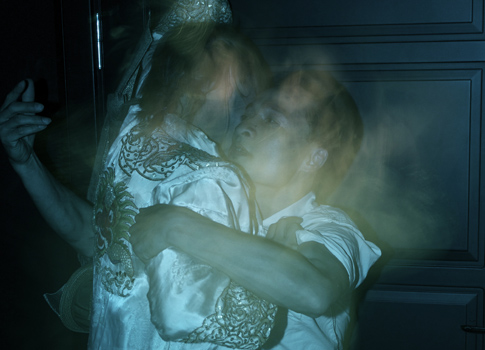 IDIOMS

Idioms is a piece of experimental music theatre. The text is in English, Swedish and Vietnamese and can be understood as a deconstruction of three classic stories of impossible love across cultures and social barriers: Marguerite Duras: The Lover, Shakespeare's Romeo and Juliet and the Vietnamese tale of My Chau and Trong Thuy. The different traditions that the actors represent provides a range of expression in a wide span between spoken theatre and opera. The music weaves traditional Vietnamese music together with experimental Western music.

Composer: Richard Karpen. Text and direction: Jörgen Dahlqvist
Actors: Pia Örjansdotter, Valerie Curtis-Newton andNguyen Duc Manh Musicians: Nguyen Than Thuy, Nguyen Quang Hung and Stefan Östersjö
Programming: Josh Parmenter. Costume: Jenny Ljungberg and Niké Moens. light design and set design: Johan Bergman. Sound and live electronics: Martin Svensson. Technician: Johan Nordström.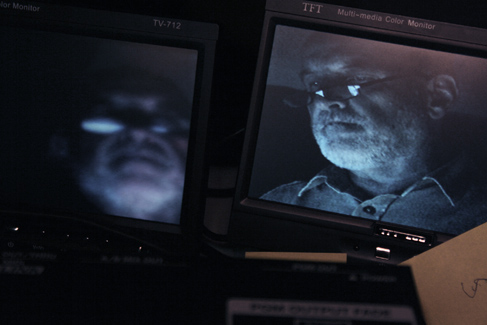 LES PORTES DE L'ENFER

Les Portes De L´enfer is a piece for actors and ensemble of electric and digital instruments- The piece takes it point of departure in the monumental sculpture of August Rodin, Les porte de l'enfer. The sculpture depicts a scene from Dante Alighieri's "Inferno".

Composer: Kent Olofsson. Text: Jörgen Dahlqvist. Participants: The Trembling Aeroplanes, Marek Choloniewski and Nils Dernevik.
Voices: Petra Fransson, Pia Örjansdotter, Linda Ritzén, Sara Wilén





IBSENDEKONSTRUKTION I: GENGÅNGARE
(Ibsen deconstruction I: Ghost)

The critically acclaimed performance Ibsendekonstruktion I: Gengångare (Ibsen deconstruction I: ghost) had it´s premiere spring 2010 at Teatr Weimar in Sweden. The play, directed by Linda Ritzén, is a radical adaptation made by playwright Jörgen Dahlqvist, of the classic ibsen play Ghost, where all characters, both male and female, are played by two male actors.
The idea behind the adaptation is to find a way back to Ibsen´s original radicality beyond naturalism. The performance explores power, class and gender. In the end language breaks down, so that only violence and addiction remains; between mother and son, between master and servant, wife and husband. And here shameful sexuality and dirty heritage is the only driving force and underlying pain between the actors on stage.

Text adaption: Jörgen Dahlqvist
Director: Linda Ritzén
Actors: Rafael Pettersson and Nils Dernevik
Costume, set design and light: Johan Bergman and Jenny Ljungberg
Technician: Johan Nordström




NATUREN, VANORNA, TIDEN, MORALEN
(The nature, the habits, the time, the moral)

This play is the second part of the triology "Sensus Communis" starting with Heterofil. The room is filled with "real nature" trying to investigate to meaning identity in a almost scientific way: what is nature? Is there something called "nature". As always with Christina Ouzounidis, the perforamance gravitate around her well-written text making it as much a audible experience as one for the eye. The collaboration with sound artist Henning Lundkvist continues in this play and his sound has as much room as the actors on stage making it to a strong suggestion of a new form for the theatre.

Actors: Pia Örjansdotter, Daniel Nyström and Ester Claesson
Text and director: Christina Ouzounidis
Sound art: Henning Lundkvist
Costume, set design and light: Johan Bergman and Jenny Ljungberg





KRIG, HASTIGHET! PAROLE IN LIBERTA
(War, Speed! Parole in Liberta)

The performance are put together from the two stand alone pieces Indy500:seklernas udde (Indy500:Cape of the Century) and The Art of War Noise. The piece is still avaliable for touring. It´s a part of our on-going cooperation with Ensemble Ars Nova in the sonat Series.

Indy500:Seklernes Udde. Text: Jörgen Dahlqvist. Music: Kent Olofsson.
The car race Indy 500, which takes place at på Indianapolis Motor Speedway in the USA since 1911, has been described as the world's greatest sport event. Taking Marinetti's fourth paragraph as point of departure, Indy500:Cape of the Century concludes that we are already living in the future, with speed and consumption as linked matter in what has become a religion in which the global brands are the proponents of this global church.

The Art of War Noise. Text: Annika Nyman: Music: Martin Svensson
A linguistic examination of war following Marinetti. It is a regression towards the futurist tribute to war and the machinery of war. It is a movement back to the trench, to the sound and rhythm of war, to its points of extreme of regularity and disintegration.

Director: Jörgen Dahlqvist
Actors: Linda Ritzén, Rafael Pettersson, Daniel Nyström
Musicians: Stefan Östersjö (guitars), Johan Westerberg (percussion) and Jörgen Pettersson (saxophones).
Voices: Ester Claesson and Pia Örjansdotter
Costume, set design and light: Johan Bergman and Jenny Ljungberg
Constructions: Kent Olofsson and Johan Nordström

A co-production with Ensemble Ars Nova
World premiere during the Connect festival at Båghallarna, Skånes Dansteater in november 2009


HETEROFIL - EN HETEROSEXUELL CABARET
(Heterofil - a heterosexual cabaret)

Heterofil has become a contemporary classic in Swedish theatre. The play has been playing since 2008 and was chosen as one of the best performance at the Swedish Theatre Biennale in 2009. The play is an examination of power structures, norms and the violence of language. It is about how we nomalize and marginalize attitudes, behaviour and actions and how the norm always take the freedom of not having to justify itself. What is in the eye of the beholder? Who is the prostitute and who is the buyer? Who decides the rules, our self image and our common idea of the world?

Heterofil has been recorded by Swedish Television and the recording will be availiable fall 2010.

Actors: Pia Örjansdotter, Sandra Huldt and Petra Hultberg
Text and director: Christina Ouzounidis
Music: Olle Linder. Lyrics: Lisa Linder
Costume, set design and light: Johan Bergman




STIRRAREN - EN KÄRLEKSHISTORIA
(The stalker - a love story)

The performance is a co-operation with Dramaten (the national theatre of Sweden). The play is a emotional roller coaster ride trying to bring back the memories of the a young boy´s first love with a girl. With rock music and expressive acting we are caught in a teenage turmoil of love, hate and sex. The performance was chosen as one of the best performances for young people (15-25) in 2010 and toured with Riksteatern (the national touring company) during the spring.

Actor: Rikard Lekander
Director: Jörgen Dahlqvist
Text: Irena Kraus
Costume, set design and light: Johan Bergman and Jenny Ljungberg





STAIRWAY TO HEAVEN AV LED ZEPPELIN AV JÖRGEN DAHLQVIST
(Stairway to heaven by Led Zeppelin by Jörgen Dahlqvist)

Stairway to heaven av Led Zeppelin av Jörgen Dahqlvist was described as an existential thriller. The play is set in a world were language and communication has broken down. The performance plays with character, identity and violence making it as as much a eximaniation of the concept of theatre itself. It´s lika e free jazz improvisation taking place within the theatre concept.

Actor: Rafael Pettersson and Linda Ritzén
Text + Director: Jörgen Dahlqvist
Costume, set design and light: Johan Bergman and Jenny Ljungberg


DÖDSSIFFROR 0308
(Death Numbers 0308)

The first cooperation between Teatr Weimar and Ensemble Ars Nova. A production that premiered on tour in Gothenburg. It´s the first time that Dödssiffror (Todesraten) are performed in the full format on stage. The performance really show the potential of the Hörspiel as means of enrichen the performing arts. After this performance we started the Sonat-series with Ars Nova.

Dödssiffror.
Dödssiffror (Todesraten) is a free fantasy on body ideals, body-building and Arnold Schwartzenegger, written by the Nobel Prize winning author Elfriede Jelinek with music by Olga Neuwirth, This was the first staged production of the entire piece.

Text: Elfriede Jelinek. Music: Olga Neuwirth.
Director: Fredrik Haller. Voice (tape part): Birgitta Vallgårda. Recording (tape part): Henrik Lagergren. On stage. Rikard Lekander, Kalina Goudeva, Stefan Östersjö, Jörgen Pettersson and Anders Åberg.
Light/set design/costume: Johan Bergman. Kostym: Jenny Ljungberg.
Sound engineering (performance): Martin Svensson.

0308.
0308 is a free association on the ultimate life-saver in the night who is the rescuer where no other rescue remains.

Text: Annika Nyman. Music: Erik Enström.
Directori/sound/animations: Jörgen Dahlqvist.
Actors (tape part): Linda Ritzén, Ida Löfholm, Nils Dernevik, Mattias Lech, Louise Ryme, Åsa Widéen, Andreas Nilsson.
On stage. Rikard Lekander, Kalina Goudeva, Stefan Östersjö,
Light/set design/costume: Johan Bergman. Kostym: Jenny Ljungberg.
Sound engineering (performance): Martin Svensson.

A co-production with Ensemble Ars Nova



TARZAN I EUROPA
(Tarzan in Europe)

A brechtian set-up where Tarzan i forced to go to capitalist ventures in Europe to try to sell trademark coffee in order to save his African village. It´s a risky business where the European entrepreneur wants to ship used computors into the jungle on the otger hand. They decide to try democracy on the villagers letting them decide between exporting coffee or importing used junk from the west. And over-looking all is the minkey Cheetah longing for some good Beethoven and a decent hom in the west - but he can´t get in without help.

Text: Jörgen Dahlqvist och Fredrik Haller.
Director: Fredrik Haller
Actors: Pia Örjansdotter, Petra Hultberg, Matthias Thorbjörnsson and Peder Holm. Set design and visual concept: Katarina Elvén.
Costume: Jenny Ljungberg.
Light: Johan Bergman






ELEKTRA REVISITED

Elektra Revisited was a violent and wild performance starring Elektra and Orest as two natural born killers. The performance started with a home recording were the two kids saw a video that they made themselves of their mother killing their father with a chainsaw. After that a chain of events led to the death of Orest and the showdown between Elektra and her mother. Just like in the classics.

Actor: Rafael Pettersson and Linda Ritzén
Text + Director: Jörgen Dahlqvist
Set design: Marcus Råberg
Light: Johan Bergman





BRITNEY IS DEAD. HAIL BRITNEY!

The play was a huge hit in Swedish theatre, it was well received by mainstream media, audience and the critics at the same time. The performance played for over one year at Teatr Weimar and on tour. Britney is dead. Hail Britney! explore how identity is createded through language. By the medialized mythologisation the human being Britney instead becomes the icon Britney, the person is no longer different from the text or the image. The play ask the question if there is a true self, and what that self would be, if there were.

Actor: Linda Ritzén
Text + Director: Jörgen Dahlqvist
Costume, set design and light: Johan Bergman and Jenny Ljungberg
Choreographer: Veronica Näslund




BUDDY FUCKER

The performance is set during the second Iraqi war. Two american soldiers have fallen in love while being away from home. Now their time is up on the mission. But it´s hard to go home and think that everything is going to be the same when you come home. It´s a play about violence and what violence do to people. And what love make people do affected by all that violence.

Actors: Mathias Thorbjörnsson, Anne Johansson
Text + Director: Jörgen Dahlqvist
Set design: Marcus Råberg
Light: Johan Bergman


UNTITLED I-III: DEATH TO THE FASCIST INSECT THAT PREY UPON THE PEOPLE

This poetic play was put together post 9/11. It contained three different parts, a tape part with a man calling his wife from a airplane while being hostage, a president calling for war, and a woman preparing to blow her self up in the theatre that we, the audience, were sitting in. The performance played at Korjaamo during the Helsinki Festspel.

Actor: Elena Aleksandrova
Actor II (on screen): linda Ritzén
Actors III-IV (on tape): Pär Malmström and Karin Lithman
Text + Director: Jörgen Dahlqvist





ORDET - KÖTT
(The Word - Flesh)

The second part of a triology on language that Christina Ouzounidis did at Teatr Weimar. Here also a collaboration between Christina Ouzounidis and artist Henning Lundkvist started. The play was critically acclaimed and featured Pia Örjansdotter in schackles on stage denying her own identity. A strong, suggestive and truly artistic performance.

Actor: Pia Örjansdotter
Sound art: Henning Lundkvist
Text + Director: Christina Ouzounidis
Set design and light: Johan Bergman




HÅLL DIG PÅ DIN CUNT
(Stay at your cunt)
Actor: Pia Örjansdotter
Text + Director: Christina Ouzounidis
Set design and light: Johan Bergman

Tour dates 2012

Interieur/exterieur
28/9 Warsaw Autumn, Warsaw

A Language At War
23/1 The Royal Music Academy, Stockholm
20/5 Göteborg Dans- och teaterfestival, Gothenburg

Hamlet II:exit ghost
9-12/5 Kunstenfestivaldesarts, Brussels
19/5 Göteborg Dans- och teaterfestival, Gothenburg

Noli me tangere
2-4/4 Gustaf Adolfs Kyrka, Stockholm

Historien Lyder
6/2 Teater Galeasen, Stockholm
12/2 Atalante, Gothenburg
18/2 Inter Arts Center, Malmö

Tour dates 2011

Hamlet II:exit Ghost
29-30/11 Nordwind, Volksbühne, Berlin
10-11/12 Dramaten, Stockholm

Les Portes De L´enfer
29/9 The Integra Festival, Copenhagen

Idioms
14/11 Växjö
16/11 Malmö
18/11 Stockholm
19/11 Härnösand
20/11 Gävle
Tour dates 2010

Ibsendekonstruktion I: Gengångare
7-8/9 The Ibsen festival, Norway
1-2/9 Lokal Theatre Festival, Iceland
12/6 Hangö Theatre festival, Finland

Konsumentköplagen
22/10 Malmö
23/10 Helsingborgs Stadsteater (SWE)

Krig, Hastighet! Parole in Liberta
11/8 Malmö Sommarscen (SWE)

Heterofil
12/6 Dramaten, Stockholm (SWE)
14/5 Pustervik, Gothenburg (SWE)
17/1 Stockholms Stadsteater, Stockholm (SWE)

Stirraren - en kärlekshistoria
(a coproduction with Dramaten. The Swedish tour was a cooperation between Dramaten and Riksteatern)
7-8/5 Bibu (SWE)
22/4 Kristianstad
19/4 Eskilstuna
15-16/4 Gävle
12/4 Umeå
31/3 Östersund
23/3 Lund
17/3 Skövde
15/3 Örebro
24/1-28/2 Dramaten (SWE)

Tour dates 2009

Heterofil
12/10 Tibilisi, Georgia
3-5/6 The Swedish theatre Biennale, Borås
27-28/5 Helsingborgs Stadsteater (SWE)

Stirraren - en kärlekshistoria
(a coproduction with Dramaten)
5/10-15/10 Dramaten, Stockholm (SWE)

Britney is dead. Hail Britney!
24-25/4 Dramaten, Stockholm (SWE)
28/4 Uppsala Stadsteater, Uppsala (SWE)

Tour dates 2008

Dödssiffror 0308
(a coproduction with Ars Nova)
5/12 Malmö
3/12 Subtopia, Botkyrka
1/12 Teater Giljotin, Stockholm
28/11 Härnösand
26/11 Atalante, Gothenburg

Britney is dead. Hail Britney!
10-11/5 Teater Tribunalen, Stockholm (SWE)

Tour dates 2007

Untitled I-III
24-26/8 Helsinki festspel/Korjaamo, Finland

Ordet - kött
6/5 Teater Tribunalen, Stockholm (SWE)